Another article I was quoted in!
By Collin Kelley
INtown Editor
A study of Walkable Urban Places, or WalkUPs, in the Atlanta region is being heralded as a "harbinger" for the rest of the country as urban sprawl ends and more pedestrian-friendly communities emerge.
The report, authored by Chris Leinberger of the George Washington University School of Business, says that WalkUPs will drive tomorrow's national real estate industry and the economy, turning what was once a niche market into the predominant market.
The report demonstrates that WalkUPs significantly impact economic growth and development in the Atlanta region and across the nation.
"During the second half of the 20th Century, the dominant development model was the familiar drivable suburban approach, and few places have done it better than metro Atlanta," said Leinberger. "However, the pendulum is swinging back toward building walkable urbanism, the dominant pattern prior to the Great Depression. According to this latest study, metro Atlanta is on the leading edge of this new urban development trend."
Some of the neighborhoods cited in the report as leading the WalkUPs trend Intown include Downtown around Georgia State University, Castleberry Hill, Centennial Olympic Park, Georgia Tech, Atlantic Station, Midtown, Inman Park, Emory Village, Decatur and Buckhead.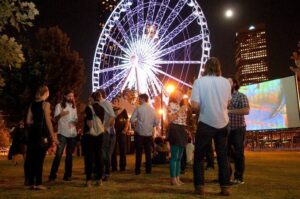 At Centennial Park with the SkyView wheel in the background (Courtesy of SkyView)
The report says Metro Atlanta's walkable urban places are attracting an increasing share of new development and have seen a rise in rent premiums over drivable suburban areas. The report notes that from 1992-2000, roughly 13 percent of real estate investment in the region went into current and emerging WalkUPs. From 2001-2008, that number doubled to 26 percent. Since 2009, metro Atlanta's share of development in WalkUPs more than doubled again, reaching 60 percent in 2013.
"We are pleased to see thriving, walkable urban places emerging throughout metro Atlanta," said Tad Leithead, chairman of the Atlanta Regional Commission. "It's evident that the market favors the kind of development that offers real mobility choices and opportunity for new community vitality. Greater walkability, housing and retail options are keys to our future economic growth."
Local real estate agents are also excited about the new report because it validates what they've known since before the recession: homes in walkable communities are in demand.
Randal Lautzenheiser, managing broker for Atlanta Intown Real Estate, chaired Midtown's Neighborhood Planning Unit for five years as has seen first-hand what responsible zoning can do for a community.
"Midtown has taken steps to become more pedestrian scaled," Lautzenheiser said. "You see all the new residential development having retail and restaurants on the ground floor."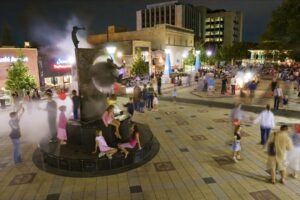 MARTA plaza in Downtown Decatur (Courtesy of the City of Decatur)
Lautzenheiser said homebuyers come into his office wanting walkable acces to restaurants and stores so they can leave their cars behind. "With three MARTA stations, Piedmont Park, all the local stores and connection to the Atlanta BeltLine – the city is just outside your door."
Zac Pasmanick with Re/Max Metro Atlanta Cityside said the trend of suburbanites downsizing and moving back into the city continues.
"Empty-nesters want to ride their bikes or walk to shops and to eat," Pasmanick said. "Many of the condos being sold in Intown are being bought by people in their 50s and 60s who moved out to suburbs for schools and more space, but now that the kids are grown and out of the house, they are downsizing and moving back to the city."
He said the real estate market is definitely on the rebound and that prices are going up because of a scarcity of available properties.
Beth Ann Clanin with Keller Williams Realty in Decatur said even during the real estate boom in the early 2000s buyers were looking for walkable communities. She said that the age range she sees the most are 25 to 35 and empty-nesters looking for a property where they can park their car on Friday and not have to get back into it until Monday morning.
"A lot of my clients are moving here from places like Boston, New York City and Chicago and are used to having walkability, and they crave that here, too," Clanin said.
Carmen Pope, founding partner of Atlanta Fine Homes Sotheby's International Realty, said having restaurants, a dry cleaner, gym, clothing stores and more at your fingertips is a very big bonus.
"Home owners are able to come home from work – if they don't already work from home – and walk out their doors with everything there for them," Pope commented.
She also said the Beltline has also played a really big role in drawing more homebuyers. "I'm working with two different families that are selling their townhomes and buying single-family homes to get more space, but they want to stay near the BeltLine," she said.
Pope said there is a need for more mixed-use development with homes and retail for busy families and individuals.