I love this blog today! It really sums up real estate if you are actively investing in it. Most Buyers though are not buying multiple properties but it still applies that real estate is a long term investment in your life and the odds are still in your favor!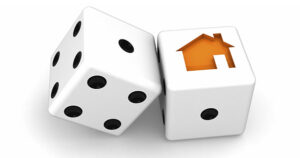 Our founder, Steve Harney, occasionally asks to do a personal post on what he sees as important to our industry. Today is one of those days. Enjoy! – The KCM Crew
That is what a headline announced in a CNNMoney post Monday. They were quoting Karl Case "an economist whose name is synonymous with home prices. He is co-creator of the much watched S&P/Case-Shiller home price indexes with Bob Shiller, who won the Nobel Prize in economics last year."
Case did explain that the commonly held belief that housing prices could 'never' depreciate was corrected over the last decade. And it is true that Case referenced a home he bought during that time had lost almost half its value.
However, there were other comments attributed to Case in the article:
He bought one home at $54,000 which he later sold for over four times that amount ($240,000)
Another home he purchased for $375,000 is now worth a million dollars.
He bet on three houses; one lost 50%, one gained over 400% and the other gained approximately 300%. Sounds like great odds to me.
Give me the dice and get out of my way.
Last week, John Maxfield, in a The Motley Fool blog post, wrote:
"Over the past year, [home prices] are up by 8.9%. Over the past two years, they're up by 19.7%. Over the past three years, they're up by 23%. And there's little evidence that this trend is coming to an end anytime soon…
[It] should be obvious why now is such an opportunistic time to buy a house. Of course, if you want to wait, that's up to you. But doing so could very well be a source of regret later on down the road."
Give me the dice and get out of my way.
If buying residential real estate is actually a crapshoot (as the headline claimed), it seems the odds are in the shooter's hand.
PLEASE give me the dice and get out of my way. I really want to roll.
Great information provided by The KCM Blog